After the debacle yesterday called me trying to climb a hill, it was nice to be back on (relatively) flat land. Today was the Wheels on Willy criterium. I did the category 3 race. I think there were about 60 in the field. I rolled up in the back of the field.
The race got under way. I started moving up the pack. I wasn't feeling that great, but I didn't have any trouble moving up, especially when the pack got narrow out of corners. Brian Rach (I think) took an early solo flyer off the front for 5 laps or so. I think he took a couple of primes in the process. There were quite a few primes. There was a two place prime called that I was in excellent position for, but during the course of a single lap, I forgot about the prime, so I sat up. I believe I heard the announcer mention my awesome tactics.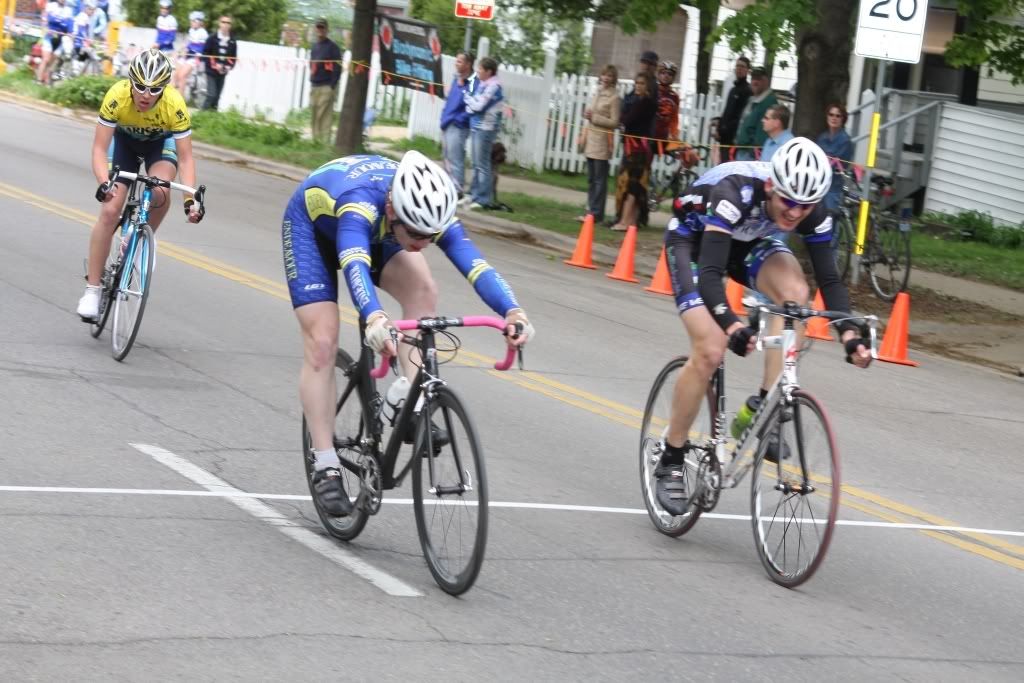 Next time I was in a position to contest a prime, I made sure to remember. I took it by the throw. Thanks for the photo to JohnWilkes.
So, some more people tried to get away. No one could do it. Which is exactly how I like it. Breaks are cool and everything, but I just love sprints. Which is pretty much the opposite sentiment from anyone I've ever talked to who has an opinion on the subject.
Final lap: Everyone's together. I had good position until turn 1. I got squeezed out of position and lost position by turn 2. The next straight was fast, and I was able to move up the side to 10th or so. After turn 3, there was a mysterious slow-down and bunch-up. I was in the second row of a relatively slow four wide pack. By turn four, people started moving. I started in too high a gear, but I got on top of it. In the final straight, I think I took two or three places, to finish 7th. Money was 8 deep. Booya.
Labels: racing